Voter Guide
Midterm Election Voter Guide
The Midterm Election Voter Guide will be published soon.
Please make sure your Voter Registration is up to date by visiting voteamerica.com
Primary Election Voter Guide
Nevada's Primary Election is June 14, 2022. Election Day Vote Centers are open from 7AM to 7PM. All Voters may vote at any Election Day Vote Center in Clark County. Early Voting runs from May 28–June 10, 2022. You can find Election Day Vote Centers and Early Voting sites inside your sample ballot. Starting in 2022, Nevada will have all-mail ballot elections. All active voters who registered to vote no later than 14 days before Election Day will receive a mail ballot unless they Opt-Out. You may still vote in person. Mail ballots offer convenience, does not require you to present your ID, and can be done in private if you have concerns about your health in a public setting. Please follow instructions on the mail ballot CAREFULLY. You can use this guide right at home, take it to the voting site with you, or use the online version at the voting site from your mobile phone.
---
In 1995, the Las Vegas Bugle established a committee of community leaders, known as Nevada Impact, to offer guidance during each election. The selection has been published and promoted over the years by the Bugle, its successor publication, Q-Vegas, the Las Vegas Night Beat and the Las Vegas Spectrum.
Technically, Nevada Impact is non-partisan but due to the issues we care about (racial, sexual and gender equality; women's right of choice, access to voting, comprehensive immigration reform), we find it is rare we'll ever endorse a Republican candidate. Please remember that most races won't be on your ballot, as your ballot will only show the candidates for the political party you're registered for and only the candidates for your specific voting address. Many races are non-partisan, so those will show up on all ballots, whether Republican, Democrat or those who are not registered with a party affiliation.
Generally, if an incumbent is doing a great job and is challenged by someone within their party, we'll support the incumbent. If asked, we would likely urge the challenger to pick a different race where their talent could be better utilized.
If you don't see a race listed on your ballot, either there isn't a primary or it's not in your area.
The races may not be in the same order as your ballot (although we've tried). It includes most city, township, county, and state offices. If you're from a rural area, many of your advisory boards and constables are listed at the end.
The only way democracy can work is if we all vote. While one party may claim "election fraud," and make it harder to vote, it's primarily to discourage you from voting. That allows the radical right, which is a minority, to gain control of our elected offices. Please help save democracy by making sure you vote.
A reminder about rights. It appears that women may lose the right of choice over their own bodies, if the US Supreme Court rules as the leaked draft indicates it will. Using the same "logic" that the Supreme Court is threatening to use against women, could also be used to take away same-gender marriage and many of the LGBTQ protections we've gained over the past years.
We say it every year, but it continues to be true. This is one of the most important votes of our lifetime. Please consider using our guide. Together we can bring about change and protect what we have fought so hard to gain.
---
Publisher Note: The contents of the Nevada Impact Progressive Voter Guide have been determined by an independent committee assembled by Nevada Impact and does not reflect endorsement directly by QVegas, QLife Media, its publishers, employees, subsidiaries, or agents. We provide this guide as a service to the LGTBQ+ community in Southern Nevada.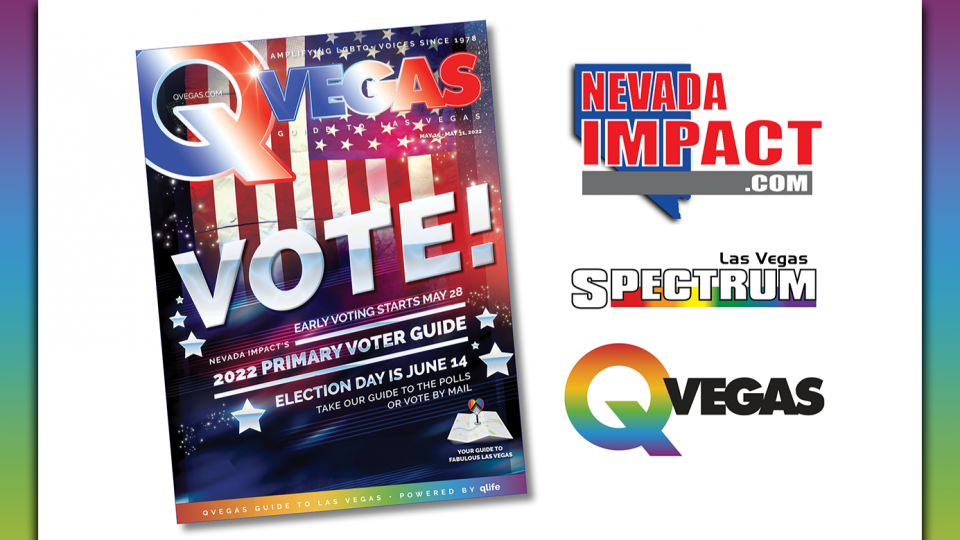 Voter Guide Advertising Inquiry