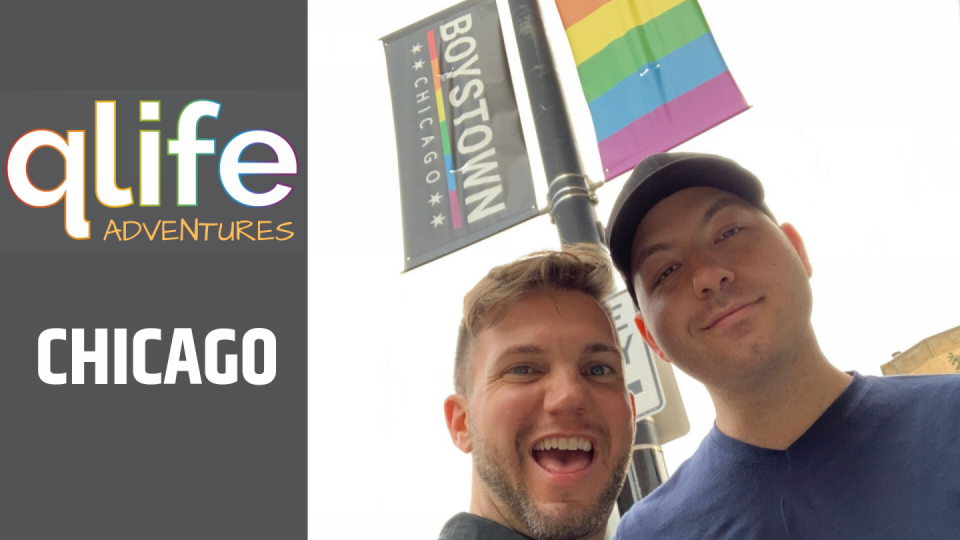 QLife Travel: Chicago
In August the QLife team got to visit the jewel of the midwest, the windy city itself: Chicago! We had A LOT to see in only a few days, and as first-timers to the city, we focused on the "must do's" of America's third-largest city. The three primary areas we focused on where: Downtown Chicago, Millennium Park, and of course the aptly named Boystown!
When we first arrived at Chicago O'Hare, we were immediately greeted by the art and culture of the city. The passageway from the terminal to baggage claim was a Neon Rainbow tunnel called "The Sky's The Limit" designed by Michael Hayden. As queer visitors to the city, we immediately felt welcome in Chicago before we even left the airport!
After checking into the hotel we were starving, so it was appropriate to set our priority to find some of Chicago's legendary cuisine! We spoke to Chi-Town locals to find the best places to find authentic Chicago style pizza and hot dogs. For hot dogs, we were recommended either Al's or Portillos. For pizza the options were less contested, Giordano's was the place to go. And with that, we chose to start our Chicago adventure off right, with its legendary deep dish pizza from Giordanos! Right off the bat, they let us know that they don't cut any corners when making their deep dish pizza and that it will take a full 45 minutes to prepare and bake before it's ready. And let us tell you, it was well worth the wait!
With our bellies full, it was time to venture out into the city! Downtown Chicago was our first stop. Filled with so much art and culture, we could have spent our entire trip just taking it all in. It felt like every street had some form of public art, from sculptures, fountains, to street performers, even the architecture of the buildings were works of artistic genius! (more on that later). But, with only a limited time, and so much to see, we had to prioritize.
Making our way to Millennium Park we made our first official stop, and probably one of Chicago's most iconic landmarks, The Bean! We were surprised to find that guests were allowed to walk all the way up and touch the bean, and even walk beneath it! The crowds the bean draws in is representative of the diverse and enriching culture of Chicago itself. We found people from all walks of life and identities coming together to enjoy this magnificent piece of art, symbolic of the reflection of the mirrored surface of The Bean itself.
After leaving The Bean, we had only walked a few steps before we came upon the Jay Pritzker Pavilion, designed by architect Frank Gehry. On this day the pavilion was featuring the SummerDance Celebration hosted by In Living Color's original Fly Girl, Jossie Thacker. The celebration featured some of Chicago's most popular and acclaimed dance companies that presented their signature performances. While we only had time to watch a few of the performances, what we saw was truly breathtaking.
Next up, we made our way to Navy Pier, where we had bought tickets to take an Architecture Boat Tour down the Chicago River. The tour highlights the artistic design of the city and educates passengers on the different styles used in all of the towers that make up Chicago's famous skyline. Our guide on the tour was fun and engaging, making the evening stroll down the river that much more enjoyable! Immediately after the tour, thanks to some precision timing, we were met with an amazing firework show off the pier over Lake Michigan!
That night, we met up with Chicago local, and former columnist of QLife, JL Jordan Jr. at one of downtown Chicago's finest Italian restaurants, Il Porcellino. JL was an amazing host to us during our trip, helping us map out everything we needed to see and do. After our meal, we paid a visit to the only gay bar in downtown Chicago, Second Story. A smaller and intimate bar located on the, you guessed it, second story of one of Chicago's high-rises Second Story was a great introduction to the local Chicago LGBT scene, the kind most tourists miss out on!
When it comes to gayborhoods, the reputation of Boystown stands as one of the most desirable in the nation. With all this hype, we were excited to see for ourselves how it stacked up! Without a doubt, Boystown exceeded far beyond our wildest expectations. From the architecture and design of the neighborhoods to the wide range of different bars, clubs, and restaurants, Boystown is surely an LGBTQ+ Mecca of the midwest.
Our first stop in Boystown is one of the most recognizable names in Chicago LGBT nightlife, Roscoe's. And we were fortunate enough to be there on the night of one of the most exciting nights of drag the city has to offer, Black Girl Magic! The show is created and hosted by Chicago native and RuPaul's Drag Race alumni, The Vixen. The show is co-hosted by another Drag Racer, Dida Ritz and featured season 10's Asia O'Hara as their special guest. But what makes the show so special isn't the Ru Girls who make up the cast (although they are all fantastic artists and performers) but the local talent that makes up the ensemble of the queer black community of Chicago. From local legend, Lucy Stool to Bambi Banks-Coulee the show was non-stop energy and excitement. The show also travels to cities across the nation, we recommend letting your local club promoters know you want to see Black Girl Magic in your hometowns!
On our next night out in Boystown, we stopped by Sidetracks, Chicago's premier video bar. On this night they were playing show tunes while the crowd sang and danced along. Then, as the night progressed they transitioned into a Lady Gaga celebration, playing all of her best hits! Next on our bar-hopping tour was Splash, where another drag show was underway. This show, hosted by Aura Mayari, was a high energy drag explosion! The queens used every inch of the bar in their performance and proved why Chicago drag is rated as some of the best in the country! Finally, we made our way to Charlie's Chicago. As one of only a few late-night options in the city, it funneled in all of the partygoers from Boystown who weren't quite ready to call it a night. As anyone who's been to a Charlie's would expect, the bar is full of energy and fun well into the late hours of the night.
Finally, on our last day in Chicago, we went to one of the best Drag Brunches we've ever been to! Hosted at The River, and sponsored by local gay bar Splash, this brunch had everything your drag loving heart could want. The food was served platter style, meaning less time deciding on what to eat and more time enjoying the show! The queens were high energy and fun. One queen even climbed up and hung down from the rafters! After the show, everyone was invited over to Splash to enjoy their happy hour, where they queens who had just performed would also be post-brunch.
After this trip, we can safely say we can't wait to visit Chicago again! With so much fun, entertainment, and culture, it's no wonder so many people are proud to call it home. We highly recommend everyone takes a trip to the Windy City at least once, although, for us, we plan to go back as much as possible!