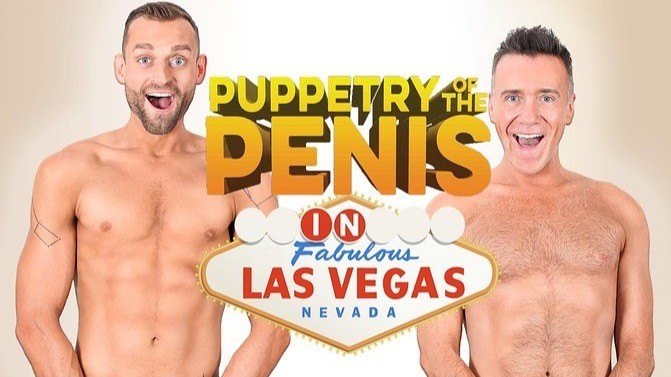 Puppetry of The Penis Celebrates 1000 shows in Las Vegas!
PUPPETRY OF THE PENIS, the internationally acclaimed mega-hit, is going nuts in Las Vegas! After 4 and a half years into a sensational run, audiences from all around the world are discovering an astounding series of penis installations of PUPPETRY OF THE PENIS. And Saturday, November 9th is show number 1000 at the Erotic Heritage Museum!
PUPPETRY OF THE PENIS, a show which Vanity Fair called "dementedly good fun!" requires astonishing stamina, an unbelievable stretch factor and an amazing level of testicular fortitude. The show leaves women and men gasping with more than 40 heroic and hilarious installations, including crowd-pleasers, tourist attractions and food products, such as "The Pelican," "The Windsurfer," "The Eiffel Tower," "The Loch Ness Monster" and their signature creation, "The Hamburger."
PUPPETRY OF THE PENIS is performed Thursday through Sunday at 8 PM inside The Jewel Box at the Erotic Heritage Museum located at 3275 Sammy Davis Jr Road. Tickets can be purchased at www.puppetryofthepenis.com and at vegas.com. For more information, please visit www.puppetryofthepenis.com. Find PUPPETRY OF THE PENIS on Facebook and follow on Twitter and Instagram.
PUPPETRY OF THE PENIS is first and foremost a comedy, a non-sexual adult show. It is the only show in Vegas that features full-frontal male nudity!
THE CRITICS RAVE
"They recently appeared on "The Tonight Show," which is perhaps the closest thing to an official seal of approval from the mass culture." The New York Times
"Sends audience members into hysterics." The New York Times
"Comedic brilliance!" Time Out, New York
"Inventive, original and innovative. The whole show is clever and funny." New York Post
"Lunatic virtuosity" LA Times
"The tone for the show: sassy, off-color, but never crude." Variety
"Dementedly good fun!" Vanity Fair
"LA has embraced the penis. A phenom. Totally sold out." KFI Radio, LA
"Wildly, unbelievably, exhilaratingly funny … head-shakingly, mind-bendingly, inhibition-shatteringly outrageous." Toronto Star, Canada
"…outright best show…shocking, ridiculous, hilarious..." The Age, Melbourne, Australia
"Does exactly what it says on the packet…unbelievable." Financial Times, London
"...shocked me into uncontrollable fits of hysterics…." Time Out, London
"charming … extraordinary … DON'T TRY THIS AT HOME!" THE GUARDIAN, UK
"Sold out to the rafters … the women SCREAM and SQUEAL" THE MAIL ON SUNDAY, UK
"… gently witty … surprisingly charming … done with a high degree of decorum … in the best possible taste. They may be flashing their genitals but they keep their socks and beanie hats on." THE GUARDIAN, UK
"BEST NEW SHOW ON THE WEST END" THE GUARDIAN, UK