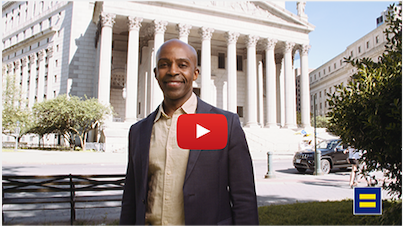 Meet the next President of HRC, Alphonso David
Alphonso has been fighting for LGBTQ equality his entire professional career — his commitment to civil rights borne out of his personal experiences as an immigrant, a refugee and a Black gay man.
When he takes the helm of HRC in August, Alphonso will become the first civil rights lawyer and the first person of color to serve as HRC president in our organization's nearly 40-year history.
It's not the first time he's made history — most recently, as the head of New York's Office of Civil Rights, Alphonso helped lead the fight to win marriage equality in the Empire State three years before the Supreme Court guaranteed that right.
Under his watch, New York banned the abusive practice of so-called "conversion therapy" in minors, expanded Medicaid coverage to cover transition-related care, made it easier to amend gender markers on birth certificates, and enacted policies and regulations to support people living with HIV and drive new diagnoses to an all-time low statewide.
From housing discrimination to racial discrimination and reproductive justice, Alphonso has worked to make New York a fairer, freer place for everyone.
Now, he will lead the nation's largest LGBTQ civil rights organization as our new president.
We invite you to hear directly from Alphonso about why he is in this fight and how he plans to lead our grassroots army to victory in the years ahead.
His message to us all is loud and clear:
"If we want to win full equality, that's going to require us to come together, to dig deep, to be resilient, to embrace our differences, to tenaciously defend the most vulnerable among us, to fight with every ounce of determination we have. I promise you this, I will fight for each and every one of us. All I ask is that you join me, that you join the Human Rights Campaign in our fight for true equality. In unity, we will fight back and we will win."
We hope that you will join us in sharing this video article and celebrating Alphonso David as the new president of the Human Rights Campaign!