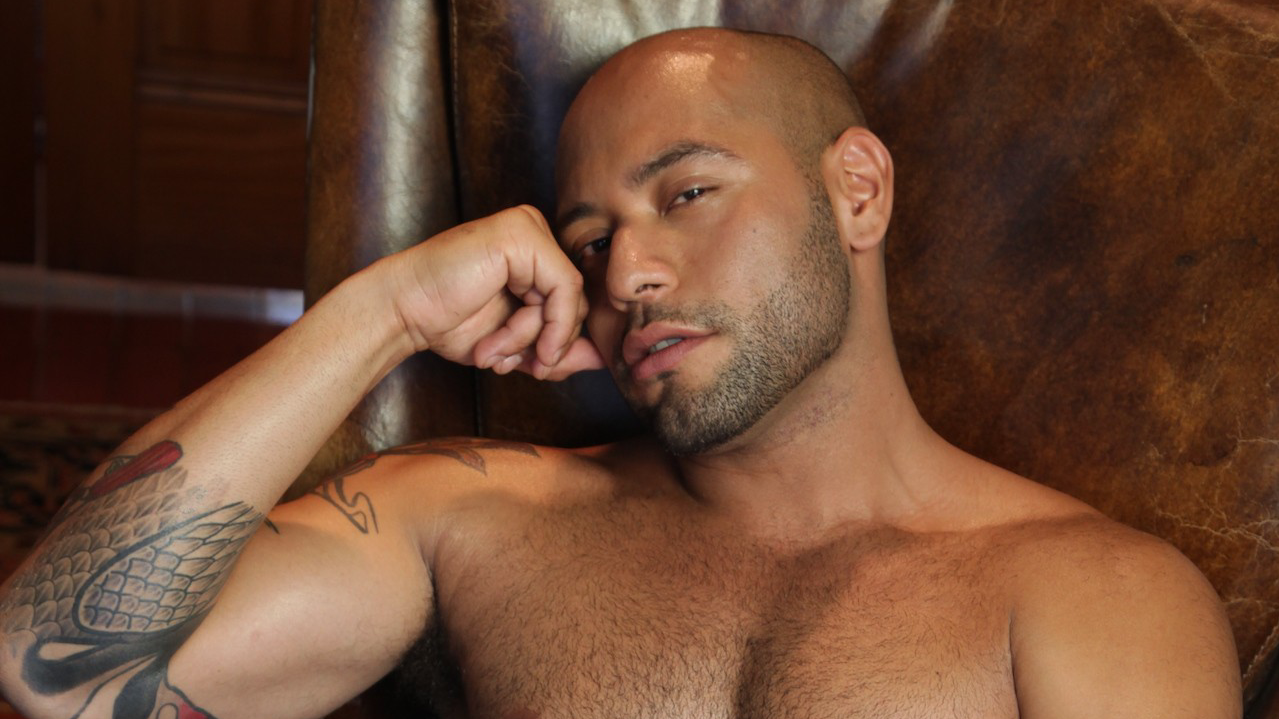 Meet Leo Forte
Leo Forte is a real porn star. It's a hackneyed term, but in his case, it's true. He's sexy. He's adorable. The dimples! Holy Shit! He's also brash and brassy, sweet, hilarious, over-the-top, and more often than not, stoned. On one of his recent trips to Los Angeles, we went out to eat - we both LOVE to eat - and we talked about boys, drag queens and porn.
Michael: I would have bet money that you were from Puerto Rico because you remind me so much of my husband, Antonio. He was from Puerto Rico, and he ended up in Chicago, just like you, and he also did porn, like you. His porn name was Matteo Rivera. But you're not Puerto Rican! You're originally from Mexico, yes? When did you come to the States? What do you remember of Mexico? Have you been back to the place where you grew up? How'd you like Chicago?
Leo: I immigrated to the US when I was 6, back in the early '90s. I'm a little bit country.
Michael: I'm a little bit Rock 'n Roll.
Leo: Oh, Lord! I grew up on a ranch where we made cheese. Tons of cows that would be milked daily. Living off the land. Very humble roots. No electricity or running water. I've been back many times since, and I have always felt the culture shock. Seriously, for anyone of my kin to have been where I have been in life, been WHO I have been, it's a completely random act of the universe, and utterly unheard of! In Chicago, it's a rough place, and I grew up fast. One learns how to navigate the street culture and how to not just be street smart, but a genius.
Michael: I like that, "street genius."
Leo: I was sneaking off in the middle of the night or skipping school just to run around the city, to go out. I was already clubbing at 16. Chicago is definitely the school of hard knocks, but it has more heart and soul than any place I have been.
Michael: I feel that way about New York City, where I grew up in The Bronx. I grew up there in the midst of the AIDS crisis. It was a totally different city back then. Now you're working on "The PrEP Project." How'd that happen?
Leo: "Hey, Leo, I have a friend who is doing a student film for his senior project, are you interested?" That's how it happened. I really didn't think too much about it, I thought it would be something fun to do, but never did I think that it would go as far as it has. Growing up in the '80s/'90s, we were taught to fear and avoid anything HIV/AIDS related. When PreP arrived it changed the gay world. It could prevent the spread of HIV, and nobody knew about it. The PreP project is a very straightforward, no stigma, no shame approach to enlightening people about their options. The "Sex Education" for a new generation. The ignorant are always skeptical when given knowledge, so it got some pushback, but it's for the greater good and I hope that it keeps going on and on, reaching far and wide. I hope that it will also help end the stigma against people who are HIV+.
Michael: Everybody can find it on youtube. Check it out! Do you have a film or a performance that you saw as a child that made you want to get into acting?
Leo: I didn't watch a movie until I was 6. However, I did my first school play at 5. Center of the stage as the lead, "Cowboy Mouse."
Michael: I can totally see you as the Cowboy Mouse!
Leo: I could see myself through the eyes of the people watching, it was surreal. I didn't leave the stage for another 13 years. I did tons of plays while in school, all through college. I like being on stage. I like to entertain. I never pursued it seriously, I never thought I was any good at it. I've done a few commercials, five seasons of "Child of the '70s," of course, and all the dialogue movies I've done in porn. I've done a few stage productions with Peaches Christ, too, which are always a blast and super camp.
Michael: You just shot some porn in Prague for NakedSword and Bel-Ami. I know this question sucks, but who's the sexiest guy you've ever worked with? Thoughts on François Sagat? Who would you like to work with?
Leo: Francois Sagat is my idol. He is who I had modeled myself after, always thinking; "Would Francois do it?" He was a joy and a dream come true to work with in France last year. I was behind the camera, but living through the other models. I didn't interact too much with him, because I didn't want to tarnish the image I had of him. I wanted to keep the fantasy going. To me, he's still the best and one of the last REAL Porn Stars.
Michael: I'll give you a list later of all the celebrities I've worked with who I loved, but then turned out to be total assholes!
Leo: Ha! Please! I don't have anyone in particular I want to work with anymore. It is rare to find someone who you actually vibe with and can have a lot of fun with. Studios pair you up based on who they think you would look good with, not who you are attracted to. Ergo, it's still work. It's best just to have fun off set if you click with someone. About 90% of my porn crushes and I have hooked up off set.
Out of the men I've worked with, Sean Duran is my favorite. He's got so much swagger. He's sweet, funny, and he looks like he could take a swing at you, too. I'm a sucker for a bad boy.
Ever since the gay porn industry moved out of San Francisco, all I do is travel for work. I've been all over the US, and to exotic locations. The Czech Republic, Greece, England, Israel, Jordan, France, and Mexico are some of the countries porn has taken me for work over the years. Mr. Pam and I went to Prague to film a joint feature with Bel-Ami, it's our second time doing so. This trip was more fun for us both. We were not sequestered in the countryside like the first time, and at this point we have synergy. We are of the same thought process and have similar goals when it comes to production, but above all, we just want to have fun. What's the point of traveling around the world living like rock stars, if you can't enjoy it? Thus far, I've enjoyed working in London most of all. London rolled out major red carpet for us. I was living my "International Porn Star" fantasy to the fullest.
Michael: It's been suggested that in the movie of her life, Bruce Vilanch should play Mr. Pam! HA! She's a fascinating creature. Tell us a little bit about your relationship with her. How'd you meet?
Leo: She is my best friend and mentor. She has taught me everything I know about production and how to take charge and direct a set. When I first started filming, I had no idea what I was doing, so I sought out a mentor. I found her work to be the best in the industry, and I just made sure that we met. She moved to San Francisco to start the NakedSword Originals brand in 2011 and needed an assistant. I was more than eager to be the one. It's been almost six years since we started working together and we've only gotten better and better. Together we have produced some of the most decorated and fan favorite work of mainstream gay porn.
Michael: So, as hopefully everybody knows, you play a major character in the hit Dekkoo comedy series, "Child of the '70s." You play "Joe," my love interest. We just wrapped our 5th and final season. What was that experience like for you?
Leo: To me, it was like going to a film camp. I was fortunate enough to learn so much about production. I kept my eyes open and asked tons of questions. I learned how to tell a story through film. On top of that, I cultivated relationships with people who have changed me and made me better on multiple levels. You've been like a big brother to me, you've been so generous to have given me such a unique, maybe a once in a lifetime experience. I like that I had the chance to be an actor. Once you work in porn, it's like the scarlet letter, no one let's you forget about it. With this project, I felt good being seen as an actor, and appreciated for my abilities.
Michael: Since the porn industry has moved away from San Francisco, I keep trying to get you to move to Los Angeles. How do you feel about San Francisco?
Leo: It's growing on me. It's taken a really long time. Chicago is like my mother, I will always love her. I had mostly been complaining about how much San Francisco wasn't Chicago, that I was missing out. I was on my way to a speakeasy where filmmaker Leo Herrera invited me to a showing of a film project, that's when I realized I was surrounded by the world I wanted. I have a community which supports creative thinking and artistic expression. I have a group of friends who are both inspirational and challenging because you need both. I have a family of chosen people who are there for me, through thick and thin. I don't know if I'm in love with San Francisco, but we go well together.
Michael: Tell us about the project you just did with Willam Belli.
Leo: Willam is an inspiration to me and I'm a big fan of her work. I was floored when I got the call, "I'm looking for a fisting bottom for my show! Can you take a fist?"
She was doing a number while on tour where she would sing live while she fisted someone on stage. Although I can not take a fist, I could film it. That's how we first met and worked together. Not long ago she invited me to document the American tour of the AAA Girls, 15 cities in 4 weeks. Myself and Kain O. would follow them around day and night, documenting behind the scenes, and the performances. We released videos for all three: Courtney Act, Alaska, and Willam's social media channels. Also a music video for their track, "Meet & Greet." This is honestly one of the highlights of my life. I got to travel with a band of drag queens around the US & Canada, doing what I love the most, and living my fullest rockstar fantasy. This was "Almost Famous" for me.
Michael: Speaking of drag queens, favorite winner of RPDR? Also, who didn't win who should have?
Leo: Both in the same season. I have been a huge Trixie Mattel fan for years, and even more so after working with her for a Peaches Christ production of "Trixie and Katya's High School Reunion." I wanted her to win so badly but knew Shangela had it in the bag. Shangela had served it so fiercely and was The People's Queen... she should have won. However, Trixie won, and I had wanted her to win. Can't say much more, I was gagged.
Michael: OK, what should we get for dessert?