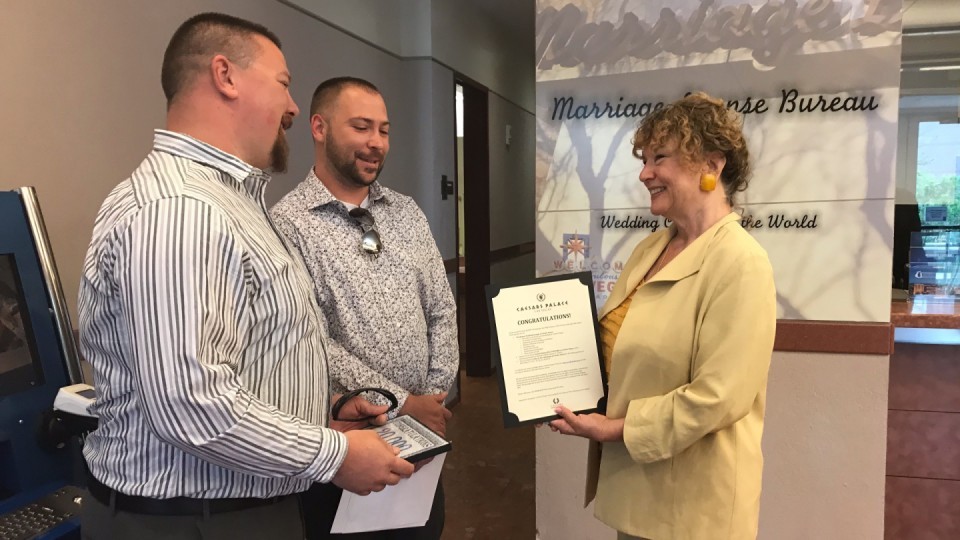 Las Vegas Weds 20,000th Same-Gender Couple
The Clark County Clerk's Marriage License Bureau in Las Vegas today issued the 20,000th marriage license to a same-gender couple – James Johnson, 33, and Matthew Tipple, 30, of DeBary, Fla.
"Today we issued our 20,000th marriage license to a same-gender couple," County Clerk Lynn Goya said. "We are excited to help James and Matthew celebrate their coming wedding, and commemorate this special day for the wedding capital of the world."
For being the 20,000th couple, Johnson and Tipple were presented with a wedding ceremony package from Caesars Palace including a hotel stay, dinner at Hell's Kitchen, and tickets to a Celine Dion show.
"We have been together for 10 years and thought how much more memorable of a vacation this would be if we got married in Las Vegas," Johnson said. "There was a time not too long ago when we were not even able to get married," Tipple said. "Now, to be the 20,000th couple. It's just amazing."
The Marriage License Bureau, a division of the Clerk's Office, issued its first marriage license to a same-gender couple on Oct. 9, 2014. In January 2017, the office issued its 10,000th marriage license to a same-gender couple. Overall, the Marriage License Bureau here issues about 80,000 marriage licenses
annually and is typically the busiest in the nation with couples coming here from every state in the U.S. and more than 85 percent of the countries in the world. In 2017, more than 1 out of every 25 marriages in the U.S. took place in Clark County.
In 2018, same-gender marriage licenses in Clark County represented 5.6% of all licenses, with female licenses exceeding male licenses by 30%.
The wedding industry is an important component of Las Vegas tourism economy, as people coming to Clark County to attend a wedding or get married generated more than $2 billion in economic activity including on lodging, entertainment, dining, and other non-gaming activities in Clark County in 2017.