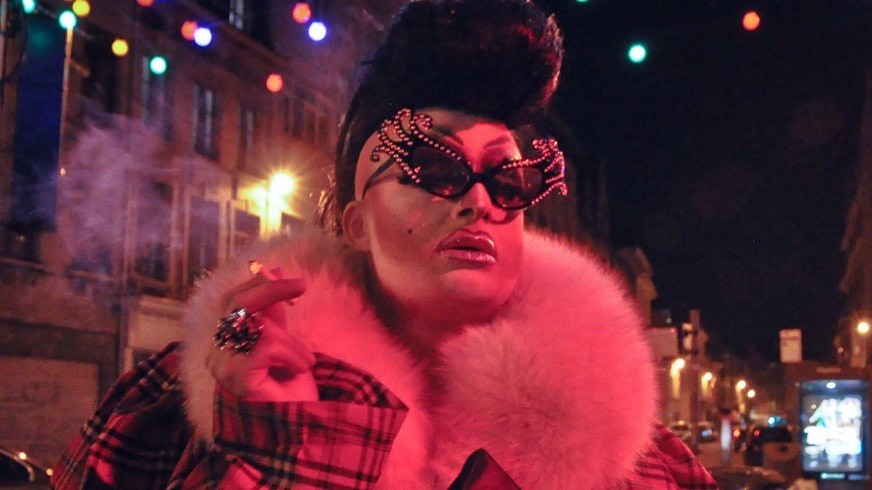 Introducing the newest Queen in Europe, the lovely LA CRIATURA DRAG!
I'm so excited. I'm on holiday in Europe, and now I'm sitting here in Belgium sipping champagne and eating divine chocolates with the hottest and newest Queen to hit the scene, La Criatura Drag, aka Emmanuel Lejeune. Believe me, this chick is going to explode! Just watch.
Michael Vaccaro: Tell me a little bit about your background. Where'd you grow up? Are you originally from Belgium?
La Criatura Drag: I was born in Belgium from a Brazilian mother and a Belgian father. From a very young age, my parents encouraged me to enroll in artistic activities. I entered a children's center that taught different types of artistic fields, such as dancing, singing and musical instruments. I ended up having a particular interest for the field of dance, which I ended up practicing until my late teens. Drawing and sewing were also crafts that I slowly started to enjoy doing as I grew older. While finishing high school, I decided to work towards a Fashion Degree, as it was something I truly started loving. I graduated from a Fashion Design School in Madrid in 2004.
Michael: I'm from New York City, and my love of fashion comes from the movie, "Eyes of Laura Mars." If you haven't seen it, you must! Did you always love fashion? You have a clothing line now, yes?
La Criatura: I guess I was born with a love of Fashion, since my grandmother on my mother's side was a seamstress. It's an inherited thing, I suppose!!! And yes, after I obtained my Fashion Degree in 2004, I then decided to do my own Women's Clothing Line. I developed it in Tel Aviv and Hong Kong.
Michael: I know you love watching RuPaul's Drag Race! In West Hollywood, where I live now, there are "Watch Parties" every week in the clubs where everybody gathers and watches the show. Do you do that here? Do you have a favorite winner?
La Criatura: Unfortunately, the concept of "weekly watch parties" doesn't exist in Brussels. There is one bar in Antwerp that does it. So I don't get the chance to do drag as often as I would like. I also feel that my drag is sometimes a bit too avant-garde for the Belgian mentality. The concept of Drag in Belgium is very much centered on the "Pageant Queen" type. When one starts mixing Drag and Club Kid together, he can feel the local audience has a hard time understanding him.
In terms of RuPaul's Drag Race, it's hard to pick a favourite winner. All of them are to be admired for doing drag in their own unique way.
Michael: How'd you get into drag? Tell everybody about your drag persona.
La Criatura: Well, my love of drag goes back to my teenager days. I discovered the drag phenomena in the '90s and was amazed by what one could do with it. About three years ago, upon returning to Belgium for good, I just decided to get into it. It was a lifetime decision that needed to be made. I just threw myself into the pond and started building my persona.
"La Criatura Drag" is a fierce queen who isn't afraid to break boundaries. She keeps in touch with her masculinity at times, whilst at others, she's very fishy. I try to get inspiration from different fields in order to present something unique and different each time I make an appearance as "La Criatura Drag." The fact that I design and make all my costumes helps me turn my character into something very personal.
Michael: Who are your biggest influences, in both drag and fashion?
La Criatura: That's a pretty hard question to be honest, as I really draw inspiration from all types of sources. Inspiration is something that is unending and has to be cultivated continuously. In order to be a good designer, Drag artist or Artist overall, one needs to have a constant interest in acquiring new knowledge. However, I get very influenced by the Club Kid phenomenon (especially artists such as Kabuki and Leigh Bowery). In terms of designers, I have a particular interest in avant-garde artists such as Comme Des Garcons, John Galliano and Thierry Mugler.
Michael: I love Mugler. I have a couple of wonderful friends, Joey Arias and Juano Diaz, who have worked with Mugler. I'll have to hop you all up with each other. Do you have any plans to come to the United States?
La Criatura: I would definitely like to come to the US at some point to develop my drag career, but it would have to be done at the right time and under the right conditions. The fashion and Drag Queen culture in the US definitely fascinates me, therefore I am looking forward to discovering and hopefully being a part of it at some point.
Michael: Have you been influenced at all by American TV or movies or actors?
La Criatura: Yes, definitely. Usually the horror movie genre influences me a lot. American sitcoms from the '80s, such as "The Golden Girls," also fascinate me.
Michael: Where online can people find you? Where can everyone see your designs? Do you have a website?
La Criatura: Of course! Tons! For more Information about my drag persona, go to: https://lejeunecreation.wixsite.com/lacriaturadrag.
On Facebook, you can find "La Criatura Drag" athttps://www.facebook.com/La-Criatura-Drag-1140904672721159/
And Instagram: @lacriaturakween or @lacriaturadrag
For more Information about my Womenswear work, go to:https://lejeunecreation.wixsite.com/lejeunefashiondesignFor more information about my Drag Queen Costume Work:https://lejeunecreation.wixsite.com/lejeunedragcostumesAnd Facebook again, "The HauZ of Drag Queen Couture"https://www.facebook.com/The-Hauz-of-Drag-Queen- Couture-373449033451153/?modal=admin_todo_tour
And finally Instagram: @dragcostumebylacriaturadrag
Michael: Amazing! So much stuff! What's next for you?
La Criatura: At the moment I am continuing to develop my drag to bring it to a whole new level. Drag is something that is changing my life and I definitely want to continue doing it. I am developing a project having to do with my costume design in order to start selling to Drag queens in the US and abroad. All the new designs of this collection will be posted on my social media in the near future.
Michael: I adore you, and it's been so much fun sitting here and chatting with you. And now, let's go somewhere and dance!
La Criatura: Oh, we'll be out all night! Let's go!