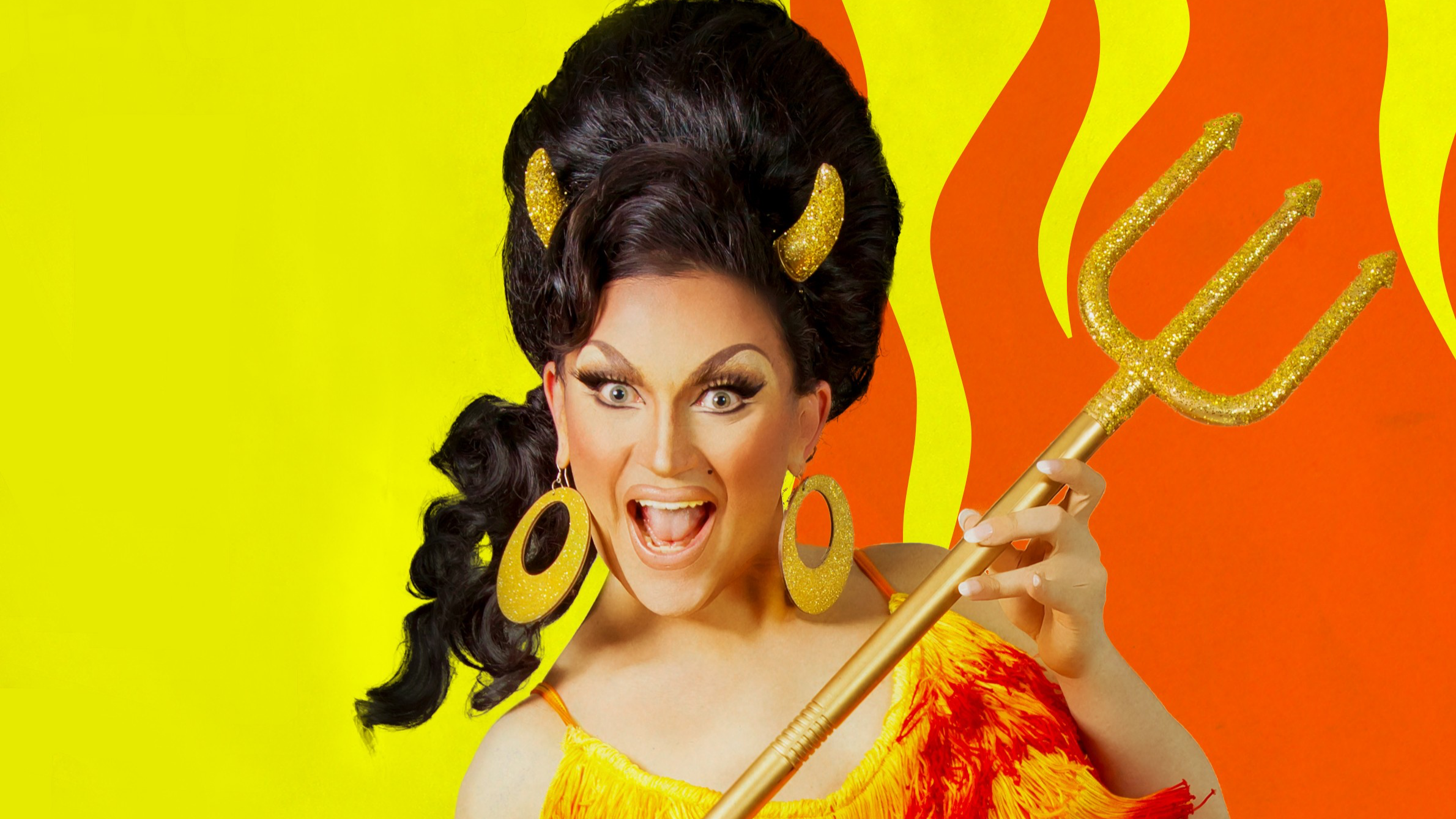 Drag Me Through Hell
Oh my God! Who's that shadowy figure warning us "Abandon all hope, ye who enter here?!" Is it an apostate of Hell?! No! It's just the terminally delightful BenDeLaCreme! Looking fabulous in a flame-fringed bikini, beehive hairdo, and red sequined devil horns, DeLa took us to hell, and the trip was very cool! Or rather...HOT!
BenDeLaCreme, the drag alter ego of Benjamin Putnam, gained huge acclaim as a contestant on RuPaul's Drag Race Season 6 and Drag Race All Stars 3. Beyond his television fame, however, his live performances have been big hits in his hometown of Seattle Washington, as well as across the U.S. and in Europe and Australia.
At the top of Inferno A Go-Go, DeLa warned us that there would be no discussion of Drag Race - she has moved on! No, this evening she would give us a guided tour of the nine circles of hell, as described in Dante's Inferno, and while a cabaret act based on Dante Alighieri's 14th-century epic poem sounds like heady stuff, this tour through the underworld was actually a ton of fun, and the sold-out house at the Laurie Beechman Theatre got a tour-de-force performance from DeLa in a show that was beautifully conceived, written, designed, and directed.
After a swingin' opening number reminiscent of a 1960's beach party film, DeLa said the Beechman was the perfect place for her show, as it was apparently built over an ancient hell-mouth, so she kicked off the tour with a scream-ingly funny parody of Miley Cyrus' "Party in the U.S.A.," called, appropriately "Party in H-E-L! (L)".
Along the way, through the use of puppets, clever videos, and expertly timed, pre-recorded voice-overs, we made our way through the various levels of Hell. We learned there is a special place in the Second Circle for lustful gay men who spend all their time on Grindr, we met a puppet named Indulgence Gluttington in the Third Circle, who told us all about the gluttons who inhabit that region, then advised DeLa to cross the River Styx, which she did - to the tune of Styx's "Come Sail Away," and as we entered the Fifth Circle, we explored the legendary City of Dis, where we met the Furies, who manifested as a sort of 1950's girl group in sequined gowns and snake headdresses. At the entrance to the Seventh Circle, DeLa even encountered a Border Guard, in the form of a racist, Trumpian centaur, complete with a red "Make Hell Great Again" cap.
As our tour descended further, we found ourselves in The Wood of the Suicides, where the dead are transformed into gnarled, thorny trees, and fed on by Harpies. Ben's dramatic skills really shone in this portion of the evening. When one of the Harpies explained that these poor souls will never find peace or be resurrected, as they had thrown their lives away, DeLa's sorrow and mournfulness for the Suicides was palpable, which made for a lovely, touching, very real moment.
One of the audience's favorite moments came when we entered the Eighth Circle - a vast desert inhabited by circuit queens who think it's the best gay beach ever! When DeLa asked, incredulously, if she had just spotted Nancy Reagan, one of the queens replied, "Yeah, she's not gay, but this is HER Hell!"
Finally, we met Satan himself. In a moment right out of The Wizard of Oz, Satan told DeLa not to look behind the curtain to one side of the stage. She did, of course, but what she found led her to a wonderful truth about hell and suffering that became the real message of the show.
Inferno A Go-Go was fun and fascinating - equal parts performance art, cabaret, Off-Broadway, multi-media extravaganza, and drag act. And remarkably, BenDeLaCreme was in charge of nearly every aspect of it; the show was conceived, written, directed and acted by BenDeLa. He also created the props, puppets, video dioramas, and makeup. And with the videos, puppets and voice-overs, I counted at least 16 supporting characters: the Furies, the Harpie, the Circuit Queens, the Centaur, and even Satan, all of them played by BenDeLaCreme! This was more than a drag show, it was theater!
Kudos also to Ben's crew: original music by Major Scales, stage management and sound design by Kevin Heard, costumes by Danial Helman, video editing by Shane Wahlund, and most impressively, to Abby Judd, whose technical direction went above and beyond most cabaret shows in recent memory! This is the kind of show that can only work when there's an impeccably organized crew behind the scenes, and this show was seamless.
BenDeLaCreme is currently wrapping up her run at the Laurie Beechman Theater, but if she should bring this hellaciously good show back to NYC, or if you see her appearing near you, slap on your best Hell Toupee, follow in Dante's footsteps, and Go, go...to Inferno A Go-Go!