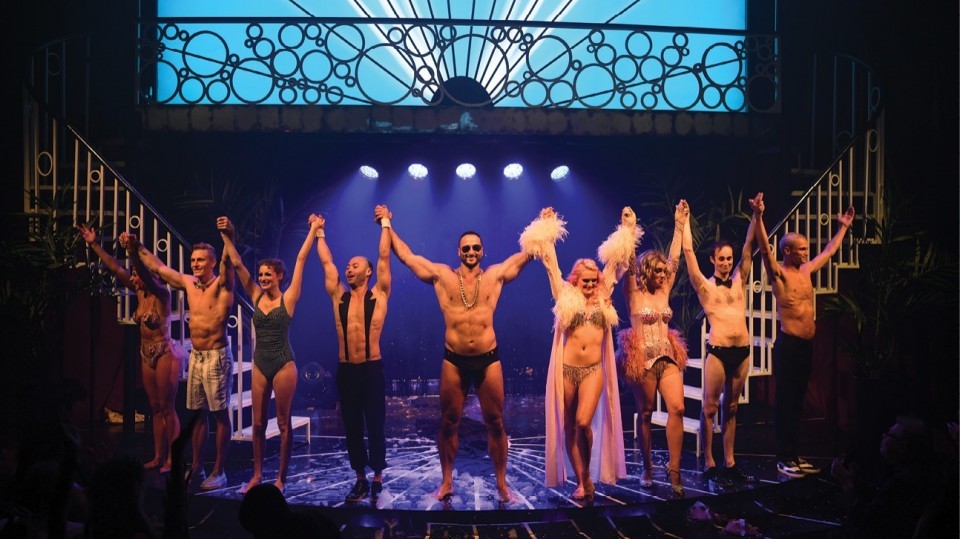 Blanc De Blanc: The New Must-See Vegas Show
Champagne flowed at SAHARA Las Vegas when international cabaret sensation BLANC de BLANC celebrated its grand opening with a VIP red carpet affair. The acclaimed production, which features high-flying aerial stunts, serious booty, and one fine French hunk, made its debut inside the recently renamed BLANC de BLANC Theatre with a champagne soiree attended by several Las Vegas entertainers.

BLANC de BLANC is the Las Vegas debut of Strut & Fret Production House, one of Australia's preeminent theatre and major events companies. The award-winning production, which has sold out the Sydney Opera House, London's West End, the Brisbane Festival and the Adelaide Festival, plunges audiences into a world of overflowing champagne bottles, sparkles, and glamour, leaving every spectator breathless with delight.
The show opens to a dimly lit cabaret set and a French monologue by the host of the evening, Monsieur Romeo and a young, exuberant, and sexy cast of dancers and acrobats. Romeo's sidekick Spencer provides comic relief throughout the show but possesses incredible talents in his own right, one of which is an uncanny ability to stay "tucked" while crawling naked across the audience and challenging Las Vegas' no frontal nudity codes.
A variety of acts fills the evening, many replicated from the Vegas winning formula of acrobatics, aerialists, and ensemble dancers. But succeeding in Vegas is a constant chore of differentiation and Romeo does not disappoint–stripping away his tux and spending the rest of the show in a black bikini brief and hot tub set up in the middle of the audience.
The show combines elegance, comedy, precision choreography, sensuality, and a finale that will re-energize you for a night on the town.
Devised by an electric creative team, BLANC de BLANC was conceived and directed by Scott Maidment (cabaret sensations LIMBO, Cantina, Madonna's Rebel Heart Tour), choreographed by Kevin Maher (choreographer for Justin Bieber, Britney Spears and Madonna), with costumes by James Browne (costume design for musicals Cabaret, Ghost and Xanadu), lighting and set design by Philip Gladwell (Magic Mike Live, The Exorcist), and a thumping soundtrack from Danish electronic artist Kenneth Bager.