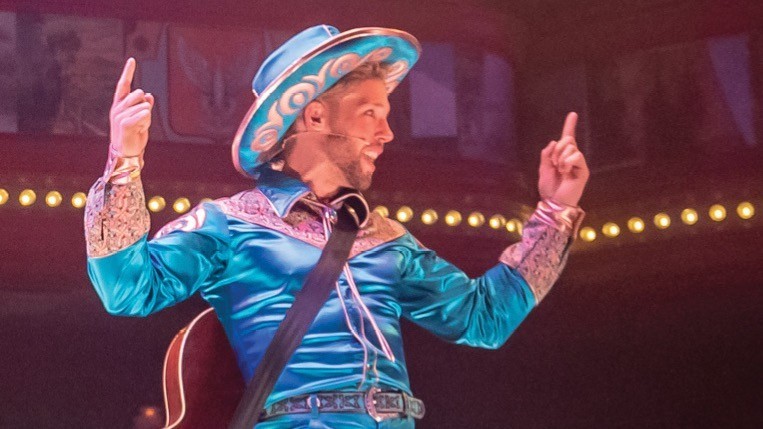 Atomic Saloon Show: Something Dirty Goin' On
"The Atomic Saloon is back and open for business!" shared proprietress Boozy Skunton. "It's been a labor of love to get this show up and running, including a month-long debut in Scotland, but I've rallied some of the sexiest and most talented saloon staff you could ever dream of to put on a show like nothin' you ain't never seen before. Get ready to have your sides in stitches, Las Vegas!"

Her first hotel was acquired by the government as an atomic bomb test site, but, decades later, Boozy Skunkton has returned. She has collected the "most abnormally sexy but sensationally amoral" troupe of entertainers on earth and is determined to create the greatest saloon show the world has ever known.
Earning their keep, Boozy's floozies and sexy saloon staff pull out all the stops to ensure each guest is entertained by showcasing their outlandish talents, from incredible acrobatics and dancing to hand-tapping, aerial artistry, and everything in between.
"I fought for decades to get my saloon back and tonight made it all worth it," shared Boozy Skunkton. "We've got some of the sexiest, funniest, funniest lookin', and most talented saloon staff this side of the Mississippi and by the sound of it, Las Vegas likes what we've got 'ta say!"
Spiegelworld's latest addition to the Las Vegas entertainment lineup has already blown away all previous box office records for the company.
The Atomic Saloon Show is located inside the Grand Canal Shoppes at The Venetian Resort in the former location of The Act nightclub which has remained dormant for almost six years following an abrupt and unexplained closing.
Tucked away in an obscure location on the third level of the shoppes, audiences entering the saloon wind their way through a maze of hallways and are taken back to the Wild Wild West. The decor is old west, the mood is fun, but the drinks are fashioned by contemporary mixology.
The Atomic Saloon was far more than a bar as Boozy introduces her staff. There's definitely something dirty going on here and they are eager to share with the audience.
Blue Jackson, the heart-throb, guitar-playing cowboy drives up the energy for the show and has the audience singing along with him "eating pussy, sucking dick, and licking ass."
For those familiar with the sister shows Absinthe and Opium, it's clear from Blue's opening song that the filth and debauchery you enjoyed in the circus tent and the space ship will make you feel right at home in the saloon—and without any parking fees at The Venetian or Palazzo, you can spend a little more on an extra cocktail.
This is a high energy show, with comedic twists and turns, an amazing soundtrack of oldies and contemporary music, and an enthusiastic cast that performs six nights a week.
The show has everything you would expect from a Vegas show, including singing, dancing, sexy costumes, aerial acts, acrobatics, tap dancing, and even a few surprises we don't want to spoil.
The saloon features comfortable private booths where couples or small groups of friends can enjoy delicious cocktail and menu options including small bites while watching the show. There are also four private dining rooms.