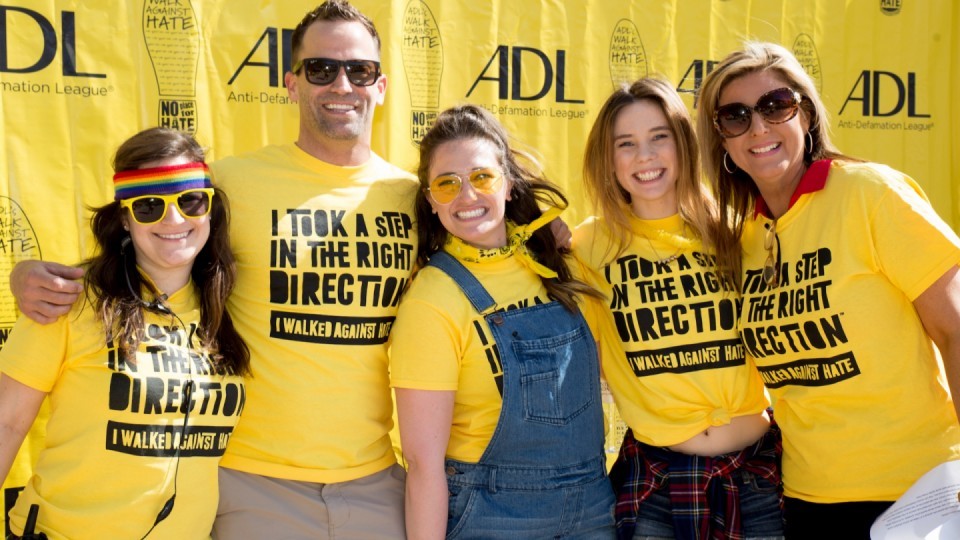 ADL's No Place for Hate®: Creating Safe and Inclusive Schools
Bullying and cyberbullying happen all too often in schools all across the country. In their 2017 annual survey, GLSEN reported that the vast majority of LGBTQ students, 87.3%, experienced harassment or assault based on personal characteristics, including sexual orientation, gender expression, gender, religion, actual or perceived race and ethnicity, and actual or perceived disability. In the 2017-2018 school year, the Clark County School District had over 10,000 reports of bullying. According to the National Bullying Prevention Center, less than 20% of students intervene when they see bullying happen to their peers. This is where the Anti-Defamation League's (ADL) signature program No Place for Hate® can be of assistance. This program helps students, parents, and school staff create an environment where bullying is not tolerated and creates a culture of ally-ship encouraging students to stand up for one another.
No Place for Hate® is a self-directed program available to schools across the U.S., designed to help all school stakeholders take the lead on improving and maintaining school climate, so all students can thrive. One of the unique aspects of the program is that schools determine, with the guidance of ADL Education professionals, how to best address the issues of their school through a needs assessment and trainings. The school forms a committee to design school wide activities and events to help promote bullying prevention ideas and create an inclusive environment where all students feel accepted and safe.
Karmen La'Shaun H. Miller, ADL Facilitator, shares why she believes the program is beneficial to implementing in K-12 schools, "The learning process for any student must begin with exposure and context to create empathy, personal empowerment, and overall understanding. No Place for Hate®, with its programming and curriculum, provides strategies to address campus concerns in a proactive and strategic way that honors all people, including intersectional audiences."
Preventing bullying and creating a positive school climate is not just important for student safety. Students that feel safe at school typically achieve higher grades and miss less days of school overall. Kat Sandigo, Education Director of ADL Nevada, states that, "Students want to go to schools where they know they are safe from bullying and bias. Every student deserves to go to a school where they feel like every adult is one that they can go to when these types of incidents occur and that they feel confident in being an ally to all students as well."
No Place for Hate® is a program designed to get all students and teachers involved in the process. The activities created by each school's committee bring students of all walks of life together to learn more about each other and create a true community that promotes inclusion and celebrates the diversity that we see in our schools today.
Each year, after committees have worked tirelessly to create these dynamic activities, the schools come together at ADL's Walk Against Hate to celebrate their achievements in front of the entire community. Schools are presented with a banner to hang proudly at their school during the Walk as a sign of their commitment to the program and the creation of a safe and respectful school.
No Place for Hate® is not the only program offered to schools that help to create a positive climate. Anti-bias education for both students and school staff are offered to help everyone better understand how to combat bullying, bias, and hate in all forms. These trainings help aid in the change of culture at the school. While focusing on change at the school level is vital, it is also important to note reinforcing positive behavior at home is necessary in creating change as well. ADL believes that just as hate is learned, it can also be unlearned. In addition to our school-based training, the ADL works with parents in teaching how best to handle bullying and bias with their children.
ADL has 25 regional offices in the U.S. and 1 in Israel. You can get involved with ADL and learn more about the programming that we offer by going to www.adl.org or contacting the Nevada office at 702-862-8600.
ADL is the world's leading anti-hate organization. Founded in 1913 in response to an escalating climate of anti-Semitism and bigotry, its timeless mission is to protect the Jewish people and to secure justice and fair treatment for all. Today, ADL continues to fight all forms of hate with the same vigor and passion. A global leader in exposing extremism, delivering anti-bias education, and fighting hate online, ADL is the first call when acts of anti-Semitism occur. ADL's ultimate goal is a world in which no group or individual suffers from bias, discrimination or hate.
Everyone can register for the Walk Against Hate happening on April 28th from 9-11am at Springs Preserve at walkagainsthatelv.org