Spoken word artist, host, and visual artist Amanda Shea and photographer Jaypix Belmer recently charmed a police officer and construction crew into stopping work on Boston's Newbury st (one of the boujiest areas in the city) as part of a photoshoot for this article. This is just one example of what makes Amanda amazing — that she's able to cross boundaries to connect with all different types of people, no matter how scary it is. In the hour that we all spent together, I took in a lot about Amanda — that's she's very open to new experiences, and she's willing to get real with the people around her. I believe this rawness is what allows her to be such a good poet. She's comfortable with exposing herself, emotionally, and through daring styles that invite people to ask questions. Read on to learn what fashion means to her as an artist.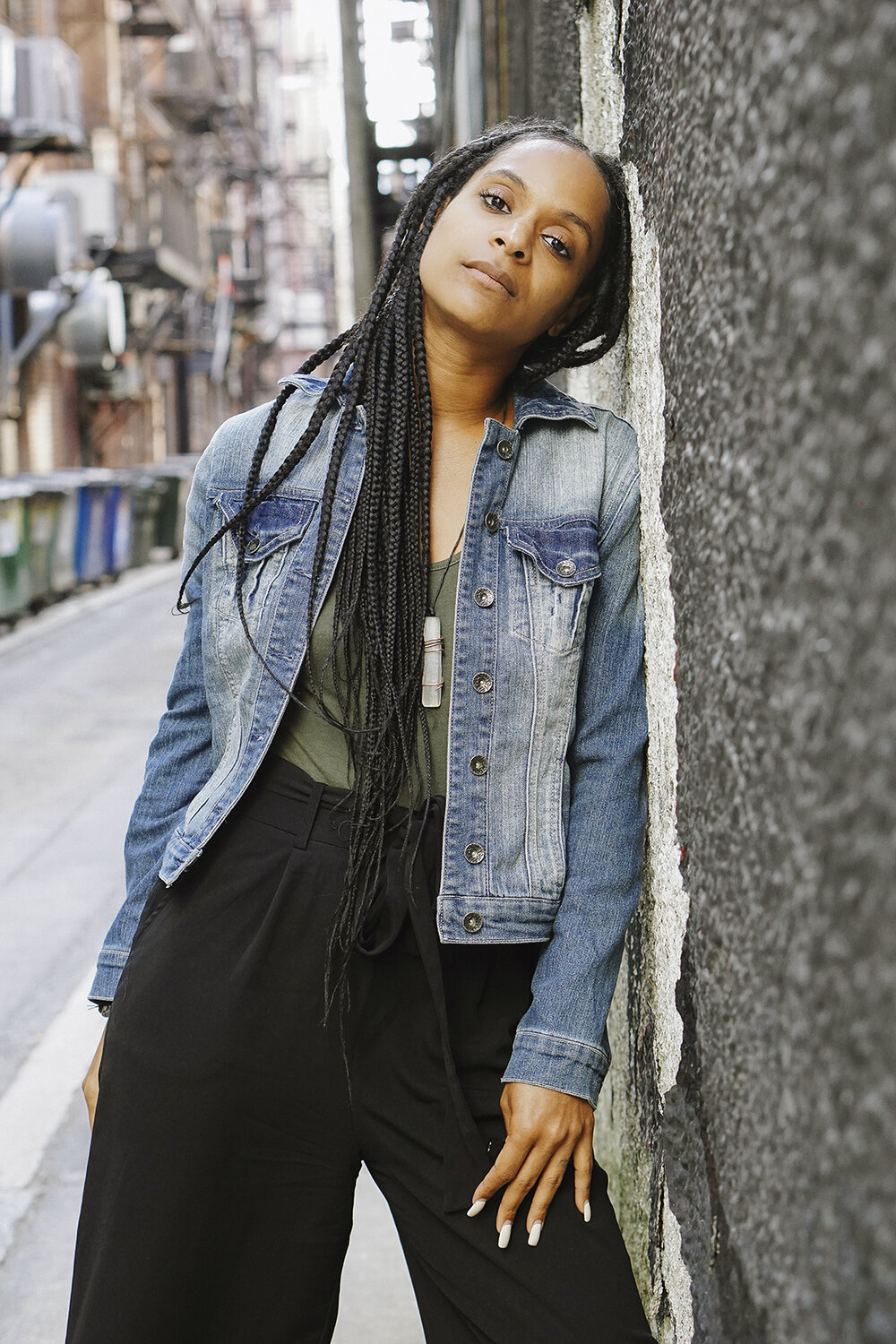 How does your style interact with your poetry and life experiences?
My style is very free, loose, comfortable, earth tone clothing which doesn't interact with my poetry or life style, lol. I like to feel comfortable but with class. Sexy but not revealing if that makes sense. I compose poetry that consists of social justice issues and generational trauma. My life experiences especially as of lately have been extremely difficult. I think when people see me and my style they think very carefree and calm.
What do you hope your style communicates to the world?
I hope my style conveys that I'm approachable, because I am. Most people say I have a "chill" vibe and seem really earthy crunchy which I'm still not sure what that means exactly. I envision myself hugging a tree and eating granola bars (which lowkey I love anything granola)
Being around male construction workers and police officers can feel scary. How did you own that in this shoot?
Honestly, there were so many emotions and thoughts running through my mind. One, I wrote a poem about how Black and Brown people feel deprived in the country which immediately was triggering. I'm not used to being so friendly to police officers or the police being so friendly. Two, we were in the middle of Newbury street and that added a different layer to it for sure! Lastly, they wanted to be included in the shoot. I was so surprised! They stopped traffic — they stopped working for a moment — it was interesting to say the least. Overall, I went from being uncomfortable since it was so public to feeling comfortable. It was an experience.
Style-wise, who inspires you?
I LOVE Jill Scott, Jhene Aiko, Ari Lennox, Ayanna Pressley, and Erykah Badu. I believe they embody the style I possess. They all dress comfortable but with elegance. It looks almost effortless. I don't take a lot of time to get dressed and I feel they may not either. They seem as though they put in thought but they don't stress about it.
On Saturday, October 5th, Amanda will perform poetry at the 10th All Together Now show. All Together Now is a multidisciplinary event that makes space for women, people of color, and queer performers. Every installment features a range of performance genres and performer identities. Learn more at www.AllTogetherBos.com
Date and location: Saturday, Oct 5, 6pm doors, The Burren, Cambridge
Facebook event
Tickets
Discount code for advance tickets: 24HOUR
Photos by Jaypix Belmer