By Lu Mabusi
To me, androgyny is the combination of masculine and feminine characteristics in an ambiguous form. With every little thing in the world being deemed masculine or feminine, there is a lot of room left to play with when it comes to expressing your androgyny. Your aesthetic is left up to your own interpretation. From thrifting to up-cycling, I've gathered 5 tips that have worked for me — and maybe they'll help you find the style you're looking for too!

1.   Buy clothes a size up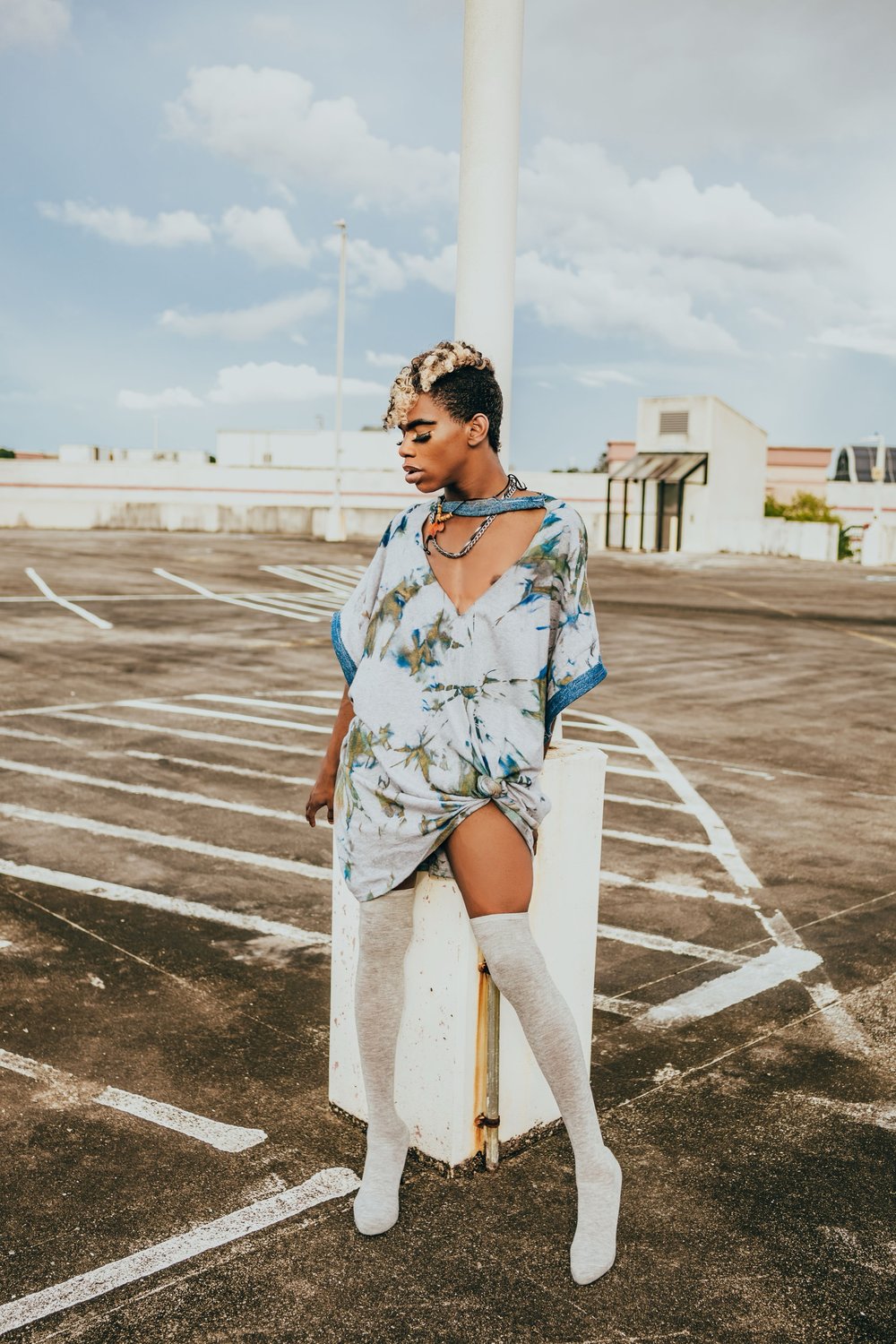 Sizing up in top garments (i.e. jackets, shirts, button downs, graphic tees, coats, etc.) is crucial for me in achieving a complimentary fit for a slender but curveless body type. When it comes to graphic tees, button downs, or any other garments you throw over your head, I always grab a larger size than my actual size. Considering my small but masculine frame, grabbing a large tee or dress shirt when I'm actually a small or medium gives me room to upcycle it with a feminine twist. I can crop it into a crop top, tie it to the side, or it just drapes down on me perfectly in a flowy, "gone with the wind" fabulous type manner. I do shop in the women's section for graphic tees and dress shirts as well but considering my shoulders and the rest of my upper body is built much broader than it was designed for, I also pick up a size or two larger — I don't want to look like I've been playing in my little sister's closet. I want to prevent that super tight fit around your shoulders which, to me, gives off a more unflattering, hypermasculine fit.
2. Try thick heels and closed toe shoes
A thicker heel can give much more support for your body and outfit, considering the slimmer heels are always a bit wobbly. Plus, the thicker heels are much easier to walk in than a slimmer heel. So if you're going to shop in women's shoes, stay away from "stripper shoes" and avoid shoes that will have your toes squeezing out like a pair of runaway piggies. Closed toe shoes and heels are always much more comfortable and flattering to me for my big toes. If you have big toes like me and want to wear an open toed shoe, I suggest sizing up so your toes are not spilling over the edge.  
3.   Try high-waisted pants
High wasted pants, depending on your shape, can be a gay boy's best friend! Pants with a high waist are universally unisex — they hug your waist and give you that same hourglass figure we see everywhere on social media. I may not have been blessed with my mother's hips but any pair of high waist pants reverses that reality for me. I suggest high waist jeans with more of a loose fit such as the "mom jeans" rather than high waist skinny jeans, considering the skin tight fit could still make you look boxy rather than curvy.
4.  Try Flowy, Chiffon Type Garments

I live for a extra flowy chiffon because it cascades off of my upper body just right. Considering my broad shoulders and muscular, boxy upper body, I veer away from tops (i.e. shirts, jackets, etc.) that are skin tight, small, or form fitting. Yes, the women's top may be my size but the fit is never flattering as those form fitting garments will accentuate my shoulders and boxy frame. Chiffons and breezy cover ups give you much room to breathe and bring attention to a slender figure with long legs giving off a sultry, feminine vibe. 
5.   Upcycle
Upcycling is another must-have method. Luxurious Lu is always balling on a budget with capital B so I do frequent thrift stores such as Salvation Army and Goodwill. Fortunately, I do know how to use a sewing machine but that is not mandatory. YouTube is the school of life and has millions of DIY, upcycling tutorials on how to reinvent basic clothing with or without a sewing machine. With the knowledge of upcycling on your side, when you visit thrift stores or dig through your closet you'll know exactly how to remix some of your clothing with a feminine but also well-fitting twist. My mother always bought large graphic tees when I was younger hoping I would grow into them, which I never did, but I was able to cut and crop them into the cutest #hotgirlsummer crop tops. The shirt in the above picture was upcycled by me! Originally a basic sports grey tee turned custom denim dashiki looking thing. 
FOLLOW LU
Instagram: @getwithlu & @lookswithlu, @delucollect (clothing brand instagram)
Youtube: https://www.youtube.com/getwithlu
Shop clothing designs: www.delucollect.com