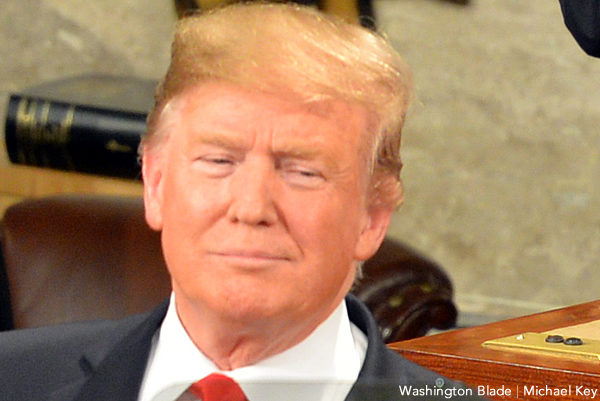 The Justice Department under President Donald Trump urges the Supreme Court to rule it's OK to fire workers for being gay (Washington Blade file photo by Michael Key)

With the U.S. Supreme Court poised to issue a major ruling on whether firing workers for being gay, lesbian and bisexual is legal under federal civil rights law, the Trump administration has weighed in with its view: Fire away.

In a 34-page brief submitted Friday and signed by the U.S. Solicitor General Noel Francisco, the U.S. Justice Department argues Title VII of the Civil Rights Act of 1964, which bars sex discrimination in the workforce, doesn't apply to cases of anti-gay discrimination.

"The question here is not whether Title VII should forbid employment discrimination because of sexual orientation, but whether it already does," the brief says. "The statute's plain text makes clear that it does not; discrimination because of 'sex' forbids treating members of one sex worse than similarly situated members of the other — and discrimination on the basis of sexual orientation, standing alone, does not result in such treatment."

A key point of the U.S. solicitor general's argument is that Congress didn't intend in 1964 to ban discrimination based on sexual orientation with the passage of Title VII, and subsequent has failed to enact legislation that would do so, such as the Employment Non-Discrimination Act or the Equality Act.

"Congress has amended other statutes expressly to cover sexual-orientation discrimination, and it remains free to do the same with Title VII," the brief says. "But until it does, this Court should enforce the statute as it is written."

Gay rights supporters have argued anti-gay discrimination is a form of sex discrimination because it amounts to discrimination "but for" a worker's sex, sex stereotyping and associational discrimination, but the Justice Department disputes each of those arguments.

"Even if sexual orientation were a 'function' of sex, that would be insufficient, standing alone, to violate Title VII; otherwise, all sex-specific practices, including bathrooms, dress codes and physical fitness standards, would be unlawful," the brief says. "Likewise misguided is the simplistic observation that sexual-orientation discrimination treats a female employee in a relationship with a woman worse than a male employee in a relationship with a woman. That comparison is logically flawed because it changes both the sex and the sexual orientation of the comparator; the two hypothetical employees are thus not similarly situated."

The brief was filed in the consolidated case of Bostock v. Clayton County and Zarda v. Attitude Express, which seeks clarification on whether sexual-orientation discrimination is a form of sex discrimination under federal law.

Representing the plaintiff in the Zarda case — the estate of gay deceased skydiver Donald Zarda, who was terminated from Altitude Express — is the American Civil Liberties Union.

Ria Tabacco Mar, senior staff attorney for the ACLU, said the Trump administration brief "defies logic and common sense."

"They admit it is unlawful to fire gay men or lesbians, but claim it is perfectly fine to fire gay men and lesbians," Mar said. "And they concede that employers may not penalize workers based on 'gender norms,' yet assert that discriminating based on moral beliefs about sexual or marital relationships has 'nothing to do with' gender norms."

Mar concluded the Trump administration filing is "unmoored from basic legal principles."

"It is simply reverse engineered to reach the result the Trump administration wants: An America where it is perfectly lawful to fire workers because they are lesbian, gay, or bisexual or transgender," Mar said.

The Supreme Court is set to hear oral arguments in the case on Oct. 8, then deliver a ruling before June 2020. With only 21 states having laws barring sexual-orientation discrimination discrimination, the ruling on the extent of protections under federal law will have a profound impact on gay, lesbian and bisexual people in the United State.

The friend-of-the-court brief — which was completely voluntary — was among several filed this week urging the Supreme Court to rule anti-gay discrimination is permitted under federal law. Other briefs include filings from the U.S. Conference of Catholic Bishops and the Alabama-based Foundation for Moral Law, which has ties to anti-LGBT Senate candidate Roy Moore.

Kelly Laco, a Justice Department spokesperson, defended the solicitor general's brief in the aftermath of the Trump administration filing it before the Supreme Court.

"The government argues that the law can only be enforced as it is currently written," Laco said. "Since Title VII's original enactment 55 years ago, Congress has repeatedly declined every year to pass bills to expand the scope of the statute to add sexual orientation. Any change to protections under Title VII must go through Congress, which remains free to legislate in this area, not the courts. The proper role of the judiciary, which the rule of law requires, is to fairly enforce the laws as written, not re-interpret or re-write them."  

The Trump administration's brief echoes an argument in a similar brief the Trump administration filed before the Supreme Court last week in a related case, EEOC v. Harris Funeral Homes. That litigation seeks clarification on whether Title VII applies to anti-transgender discrimination as opposed to sexual-orientation discrimination. 

In that case, the Justice Department similarly articulated Congress didn't intend Title VII to cover transgender workers, so discrimination against them is perfectly legal under federal law. However, unlike the Bostock and Zarda cases, the U.S. government is a party in the Harris case and a brief was required.

Although the brief in the sexual-orientation case was voluntary, it's consistent with the position the Justice Department articulated before in lower courts. When the Zarda case was before the U.S. Second Circuit Court of Appeals in 2017, the Justice Department filed a brief arguing anti-gay discrimination is permissible under federal law and sent an attorney, Deputy Assistant Attorney General Hashim Mooppan, to articulate that view in oral arguments.

The Second Circuit ended up defying the Justice Department and ruling Title VII protects workers from anti-gay discrimination, joining the U.S. Seventh Circuit Court of Appeals, which reached a similar conclusion that year.

"In the context of sexual orientation, a woman who is subject to an adverse employment action because she is attracted to women would have been treated differently if she had been a man who was attracted to women," U.S. Circuit Judge Robert Katzmann wrote. "We can therefore conclude that sexual orientation is a function of sex and, by extension, sexual orientation discrimination is a subset of sex discrimination."

At around the same time, the U.S. Eleventh Circuit Court of Appeals on the other hand found Title VII doesn't cover gay people and declined to reconsideration its position upon request for "en banc" review before the full court.

It should be noted the Justice Department under the Obama administration never took a position one way or the other on whether anti-gay discrimination is a form of sex discrimination despite calls from LGBT rights advocates. However, that was before either the Second or Seventh Circuits ruled anti-gay discrimination is form of sex discrimination under Title VII, so the case law at the time was more limited.

(Transgender discrimination was a different matter for the Obama adminstration. With more than two decades of court decisions affirming anti-trans discrimination is a form of sex discrimination, the case law was more developed. Former U.S. Attorney General Eric Holder issued a memo declaring the U.S. government would interpret Title VII to protect transgender people from workplace discrimination. Years later during the Trump administration, former U.S. Attorney General Jeff Sessions reversed that memo.)

Although the case law on whether anti-gay discrimination is a form of sex discrimination was limited during the Obama administration, the U.S. Equal Employment Opportunity Commission — the U.S. agency charged with enforcing federal employment civil rights law — found gay, lesbian, and bisexual workers as well as transgender workers are entitled to protections.

In 2015, the EEOC issued a determination in the case of Baldwin v. Foxx that found Title VII bars anti-gay discrimination in the workforce. (In 2012, the EEOC reached a similar conclusion with respect to anti-transgender discrimination in the case of Macy v. Holder, finding discrimination on the basis of gender identity is impermissible under federal law.)

Those determinations still stand today within the EEOC, which continues to take charges of alleged anti-LGBT discrimination. However, the Justice Department behind-the-scenes has been urging the EEOC to flip its position on whether Title VII is LGBT-inclusive, according to a recent report in Bloomberg Law. 

In a telling absence, no attorney affiliated with the EEOC signed the Justice Department brief submitted before the Supreme Court arguing anti-gay is allowed under federal law. An EEOC spokesperson declined to comment in response to an inquiry from the Blade on whether it agrees with the Trump administration's filing.

Altogether, the Trump administration actions represent a concerted effort to make it easier to discriminate against LGBT people in the workforce. Just last week, the Labor Department proposed a rule allow federal contractors to claim a religious exemption to engage in discrimination, undercutting a 2014 executive order signed by then-President Barack Obama.

On Tuesday, when the Washington Blade asked President Trump during a press gaggle whether he was OK with his administration taking steps to make it easier to discriminate against LGBT people in the workforce, he pivoted to his recent endorsement from Log Cabin Republicans.

"Well, you know, I just got an award and an endorsement yesterday from the exact group," Trump said, "You saw that? They gave me the endorsement yesterday. I was very honored. It was Log Cabin. The Log Cabin, and I was very honored to receive it. I've done very well with that community and some of my biggest supporters are of that community, and I talk to them a lot about it."

Charles Moran, a Log Cabin spokesperson, said the organization's endorsement of Trump "has not changed" in the aftermath of the latest legal brief.

"The DOJ brief argues that Title [VII] of the Civil Rights Act does not cover sexual orientation as a protected class, because it doesn't," Moran said. "The Civil Rights Act should be amended by law, not judicial fiat, to include sexual orientation as a protected class."

The post Trump admin to Supreme Court: It's OK to fire workers for being gay appeared first on Washington Blade: Gay News, Politics, LGBT Rights.