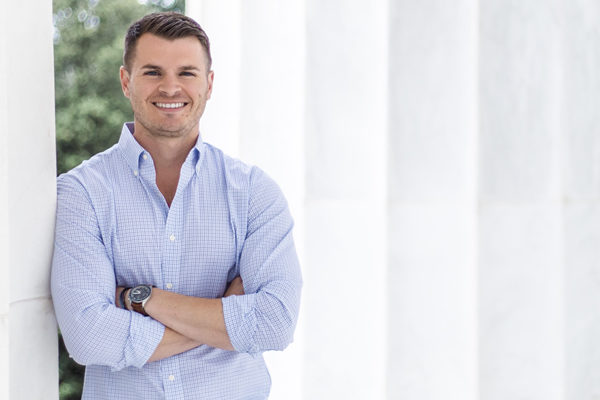 Brandt Ricca (Photo courtesy Brady Scot Photography)

Brandt Ricca created The Allison Gala in 2017 in memory of his friend Allison Virginia Ryan, a nurse who succumbed at age 28 to triple negative breast cancer, a form in which the three most common types of receptors known to fuel most breast cancer growth are not present in the tumor.

Since its creation, the gala has raised $40,000 for the Triple Negative Breast Cancer Foundation. All proceeds go to the foundation.

Ricca had known Ryan since age 10. He was good friends with her older sister and Ryan's father was Ricca's eye doctor growing up. They went to the same church and lived in the same neighborhood.

"Prior to Allison being diagnosed, I had never heard of triple negative breast cancer and I knew many others hadn't either," the 32-year-old Gonzales, La., native says. "I felt it warranted greater awareness."

The gala includes live music, dancing, local vendors and food. About 150 attended last year and it's growing. About 20 sponsors, vendors and affiliates are involved this year and it has moved from its previous home at Longview Gallery to the Four Seasons.

The black-tie optional gala is Friday, Sept. 6 at 7 p.m. at the Four Seasons Hotel (2800 Pennsylvania Ave., N.W.) in Georgetown. Tickets are $150 at tnbcfoundation.org.

Ricca started Nora Lee by Brandt Ricca, an event-planning company, in 2018. Working on wedding, corporate and fundraising events, Nora Lee is "here to make sure that each and every event is inspiring, extraordinary and unforgettable." (eventsbynoralee.com)

Ricca came to Washington eight years ago to work at VIDA Fitness. He's single and lives in Adams Morgan. He enjoys reading, writing, running and fitness in his free time. 

How long have you been out and who was the hardest person to tell? 

I have been out since I was 19. My three sisters were the hardest to tell. 

Who's your LGBTQ hero?

Harvey Milk. He was a great example of an LGBTQ community advocate. Community advocacy work is the model my company is based on. About 80 percent of my events or partnerships help benefit non-profits, community organizations or historic landmarks.

What LGBTQ stereotype most annoys you?

That monogamy is a fairy tale.

What's your proudest professional achievement?

Starting my events and marketing company last year, it was/is the hardest thing I have ever done.

What terrifies you?

Failure. But if I fail I want to know I tried my hardest, which is what I strive for every day.

What's something trashy or vapid you love?

As much as I don't want to, I love the "Real Housewives" franchise. I'll go months without watching the shows, but then will fall back in.

What's your greatest domestic skill?

Home projects. I grew up with my dad making my sisters and I knock down walls, peel wallpaper, paint, etc.

What's your favorite LGBTQ movie or show?

"MILK" is my favorite LGBTQ movie as it was the first time my eyes were opened to LGBTQ history. I was sheltered from it most of my life living in a small town.

What's your social media pet peeve?

An over-filtered picture.

What would the end of the LGBTQ movement look like to you?

Our sexuality not being a point of reference for any conversation, marriage, adoption or just overall social situations. But that is hard to imagine. We are lucky to live in D.C. where I forget that I'm gay in terms of it being a point of reference, it's just my personal life. But when I travel to smaller towns and cities, that's when I become more aware of my sexuality.

What's the most overrated social custom? 

Cheesy bachelorette parties with the sash, veil, all of that. 

What was your religion, if any, as a child and what is it today? 

Catholic, then Methodist. Today I don't align with any particular religion, but have faith and am also spiritual. I meditate everyday and read a daily devotional each morning.

What's D.C.'s best hidden gem? 

The backyard at the Woodrow Wilson House. You feel like you're in the Hamptons and not in D.C. Great privacy and garden.

What's been the most memorable pop culture moment of your lifetime?

I would have to say the crazy Britney Spears years. It's still a point of reference when you see someone acting crazy or what not. They're "having a Britney moment."

What celebrity death hit you hardest? 

Maya Angelou. She was/is someone I read or listen to when I want to feel grounded from the chaos that is life. And in life when you lean on someone for guidance like that and idolize them, you tend to think they're immortal. 

If you could redo one moment from your past, what would it be? 

Nothing. Everything in the past, even my mistakes and not so great moments, have led me to where I am today.

What are your obsessions? 

Oprah's Super Soul Sunday podcast and my dog Charlotte.

Finish this sentence — It's about damn time:

that everyone gets off of their soap box and tries to understand why someone may think the way they do. At the end of the day no one is absolutely right, we're all just out here trying to figure it out. Figuring it out doesn't always look so graceful.

What do you wish you'd known at 18? 

That I'll spend most of my 20s a little lost and that I won't be right about everything, and that's OK. That's what your 20s are for. 

Why Washington? 

Washington is the perfect small BIG town. I grew up wanting to live in NYC, but now after living here for eight years I feel I have established a pretty great life/network with a small-town feel. The benefits of a big city are still here, but I like going grocery shopping and always seeing someone I know.

The post QUEERY: Brandt Ricca appeared first on Washington Blade: Gay News, Politics, LGBT Rights.