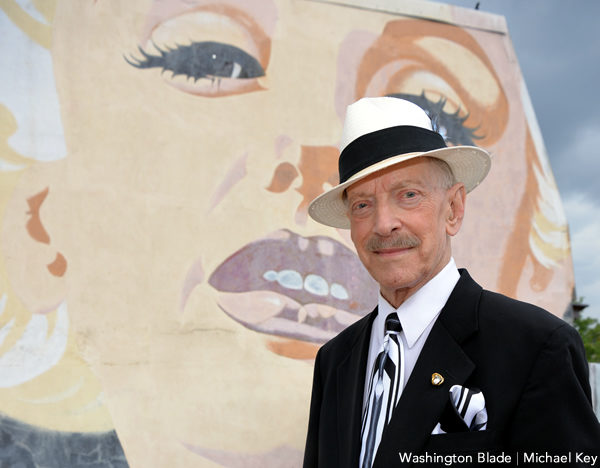 Roi Barnard on the roof of his business Salon Roi. (Washington Blade photo by Michael Key)

For some — perhaps gay men disproportionately — the draw of a grand staircase is irresistible. Especially if one has logged much time in square-footage-starved city quarters. 

Roi Barnard looks proudly around his eponymous salon at the staircase and wall beside it decorated in images of Marilyn Monroe. 

"Fifty years I've been walking that staircase like Carol Burnett," he says. "The staircase first sold me on this location. The shop can be whatever you want it to be. It can be elegant because of the staircase. It's unique and they're disappearing."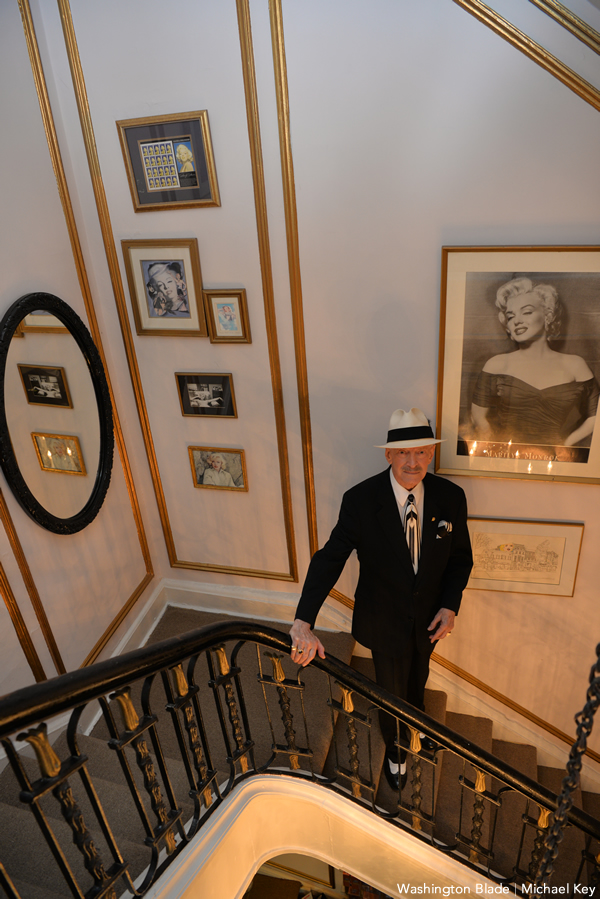 Roi Barnard (Washington Blade photo by Michael Key)

Barnard still works at Salon Roi, though he sold it 12 years ago and has recently cut back his hours since a heart attack. It celebrated its 50th anniversary in business at the same location this month (Aug. 9). Ten years in, the Marilyn mural was created. Now an official D.C. landmark, she's about to be refurbished. Barnard is celebrating the milestone with the publication of his book "Mister, are you a Lady?" A documentary is also being planned. 

Still, it's Marilyn's face just as much as his clients who continue to inspire him. 

"I first saw her in 'The Asphalt Jungle' when I was 10," he says after having his picture taken in front of her mural painted on his roof. "I remember thinking how sad she looked despite her smile. Like me back then. After she died, I wanted to bring her with me. Now she lives on here." 

For Barnard, the movie legend is more than a mere decorative element. He sometimes speaks of her as if she's still around. 

"We're going out on the roof for a picture with Marilyn," Barnard says as he's halfway out the bathroom window. "Come join us."

It's hard to believe this nimble 81-year-old survived not only '70s excesses, the '80s AIDS crisis and various waves of conservatism, but also a recent heart attack. He says he did it with his salon and a little help from his friends.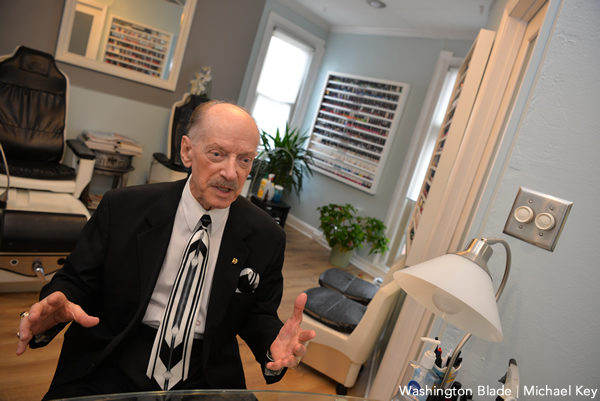 Roi Barnard (Washington Blade photo by Michael Key)

"They're my family," Barnard says of his clients and staff. "And those who have been with me from the beginning, we've survived a lot. You can see it in their eyes."

"I would say one part of the attraction of working here for me is not only the beauty of the building but also the family aspect," says Zakiya St. Rose, a bisexual 28-year-old aesthetician at Salon Roi. "Everyone in my book (of clients) feels loved and cared for, and that's a part of Roi's legacy."

Salon Roi, an upscale salon inside a cozy Woodley Park townhouse, began its life in 1969 as Charles the First, the unisex brainchild of Barnard and his former partner, Charles Stinson. 

"We were co-owners and lovers," Barnard says. "The late '60s and early '70s were so incredibly wild. Be glad you weren't there then because you probably wouldn't be here now. Times were that wild."

While Barnard was in a stable relationship and didn't do drugs, he did enjoy diamond earrings, long fur coats and driving a gold Rolls Royce to Studio 54 on weekends with Stinson. At discos, they would go out on the dance floor and throw up cards in the air granting one free haircut like cost-effective wishes.

"That's how we got them in," he says. "We had a big house off 16th street with a big Marilyn Monroe swimming pool. Charles and I were so public and so out there. I was just coming off a fashion modeling career and we were not afraid."

Still, he remembered challenges, even from gay folks.

"Gay people were afraid of us back then. We had a better time in the straight community," Barnard says, frowning. "The gay community liked us but were afraid of us because we were out and they could get fired back then, especially if they worked for the federal government."

Barnard remembers those pre-Stonewall times when, "We had to hide everything."

He remembers paying to go to a private party to meet other gay men and a half-hour after he left, it was raided by police. Some of the men he knew had their names printed in the paper and "they were told not to come back to work. They lost everything."

He and Stinson each married lesbians because, "that was what you did at the time." But times changed and a taste of freedom led to men wanting more, both gay and straight. 

"Half my clientele are straight men," Barnard says. "They love being pampered. Before the '60s and '70s, men didn't have much choice when they went to the barber. Then suddenly they had a lot more freedom in how to wear their hair. And one cookie leads to a whole box."

This new desire for freedom led Barnard and Stinson to open a unisex salon. One goal was to spread the love to government workers. Their client lists grew from federal workers to senior officials. 

"Why couldn't we help both men and women?" Barnard says. "Hair is hair. But it caused quite a media frenzy at the time. You see, women went to beauty parlors and men went to barber shops and the twain shall not meet."

So Barnard and Stinson bucked convention and opened their shop to everyone, but not without controversy.

Barnard recalls being a guest of Maury Povich on D.C.'s "Panorama" and being asked to name-drop his more exclusive clients. He refused. Later, the secretary of defense stopped by his salon to thank him personally. Barnard's stylists took care of the secretary's entire family and to this day he is proud to serve the grandchildren of the first children he styled. 

"The children saved us," he says, memories of the AIDS crisis giving him a haunted look.

The repression of the '50s gave way to the freedom of the '60s and the flamboyance of the '70s, but the crisis of the '80s threatened to take that all away.

"Everybody was scared," Barnard says. "In those early days people were getting sick, a lot of people, and we didn't know what was going on. People were losing their shops."

He seemed unable to shake the fear of the time. 

"We still have the same eyes. I can see the ravages of war in the eyes of the girls who survived it with me. I lost five gay male hairdressers — major hairdressers," Barnard says. "They were up-and-comers. Rising stars. I was mentoring them to open their own shops one day because that is what you do. But then suddenly they got sick and were gone. All of them. Gone."

He says what happened in his shop happened in many shops in many other cities all over the country. Barnard jokes that before the crisis the term "gay hairdresser" was redundant but afterward, women took control of the industry because they had to. 

"We were hit hard in those days," he says. "Robin Weir, who used to do Nancy Reagan's hair, had a big salon on P Street. Maybe 25 or 30 hairdressers. He came to say goodbye. So many salons were closing and the owners coming to say goodbye to me."

He describes how the crisis worsened and how salons started to look like hospital wards as sick stylists kept working despite losing their eyesight, getting tired and having to conceal blotches on their skin. 

"No one knew they were dying back then," Barnard says. "No one knew what was going on. They were just desperately trying to get through their day. You know when you get sick you think you'll get better and that there is a better day coming, but it didn't come. For some it never came."

To help his business survive, Barnard had to make two tough decisions. One was to get an instructor's license and train all the female assistants "to the once-pompous boys" to do hair. 

"Not a single girl got sick," Barnard says. "It was do that or lose the shop."
The other was to leave Stinson and buy out his stake in the shop. 

"I thought drugs were changing Charles," Barnard says. "Not a brain tumor caused by AIDS."

Stinson, Barnard says, was becoming increasingly unstable toward his staff, his clients and his partner. Barnard had to take action, though now older and post-heart surgery he looks back with regret. 

"I should have taken him in," he says looking around the nail room. "I could have let him work here while we watched over him and took care of him. We shouldn't have left him alone."

In those early days of the crisis, before Stinson knew he was sick, both he and Barnard were invited to Georgetown University to explain what they knew about gay life. The goal was to learn what about their "lifestyle" was filling the hospital wards with men who should be in the prime of their lives. 

"Our secrets were killing us," Barnard says. "So I told them. I told what I knew."

Barnard and Stinson took straight but intellectually curious doctors to gay bars around town and told of back rooms where sketchy sex could be had easily "in pitch dark with five, 10 men." 

"At one bar a homeless man walked in off the street," Barnard says, wrinkling his nose at the memory. "And right into that back room. Even if they couldn't see him, which was a blessing, they had to be able to smell him, right?"

Barnard's squeamishness may have saved his life.

He and Stinson introduced the doctors to Jim Graham, the director of a little walk-up clinic on 18th street called Whitman-Walker. Gay men frequented the clinic to treat "VD" or venereal diseases, now called STIs or sexually transmitted infections. 

"Jim didn't like me telling them our secrets," Barnard says, shaking his head. "But they had to know. We were dying."

Back rooms began to close, but Barnard felt he needed to do more so he took his styling scissors on the road. He started doing hair for sick young men to help them feel beautiful again. He also joined DIFA, the Designing Industry Fighting AIDS. 

But like war nurses who suffer their own forms of PTSD, seeing the constant death began to take its toll. 

"One of my beautiful young friends got sick," Barnard says. "He had these purple spots all over his face. His flesh just hung from him. His skin …"

Barnard was there to cut his friend's hair but, "I just couldn't do it."

"I excused myself to sit alone on his front porch and check in with myself asking, 'Can I do this? God, please help me.' I finally told him, 'I think I'm OK now. I just need some water.' He asked me, 'I look that bad?' And I said, 'Oh buddy, yeah. Yeah, you do.'"

Barnard styled his hair and warned his friend to take a picture and send it to his family before inviting them out to see him. 

Stinson's condition deteriorated to the point where he wouldn't last long. Barnard sent him to a friend connected with the Salk Institute for Biological Studies in California. Once known for developing a safe polio vaccine, the institute was now battling AIDS. Though well treated, Stinson would be experimented on before succumbing to the disease. 

"Over 300 people came to his funeral," Bernard says. "Kindness came through."

As the public learned more about the disease and the death toll eased, business slowly recovered at Salon Roi. 

"The fact that we were child-friendly saved us," he says. "Our children in the '80s didn't know about AIDS. They were babies. They are still coming today with their babies."

The business has now expanded with a spa and other services. Most of the staff still consists of women, but Barnard notes young gay men are returning to the field. Some of the old flair from the '70s is starting to return as well. 

"Now, there is a boy who works here and is extremely flamboyant," Barnard says. "But he has no idea what we went through before. The lifestyle had to come way down because of the backlash due to the AIDS crisis. But we came through. We survived."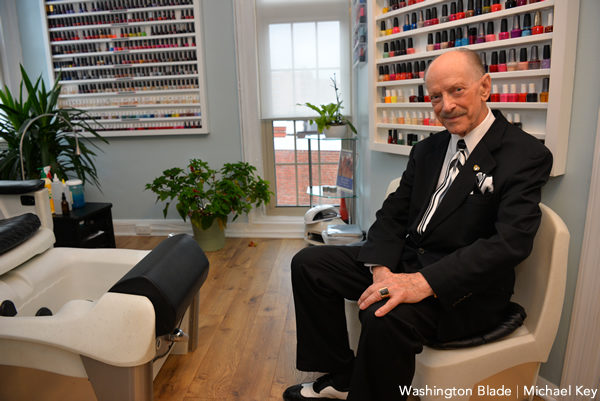 Roi Barnard says the undulations he and his business have been through in five decades would be unfathomable to Millennial or Gen Z gays. (Washington Blade photo by Michael Key)

The post Salon Roi entrepreneur Roi Barnard reflects on five decades in business appeared first on Washington Blade: Gay News, Politics, LGBT Rights.